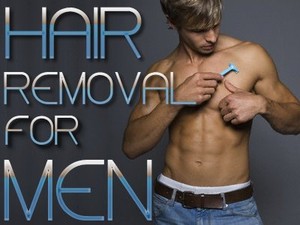 Permanent Hair Removal Solutions And Services For Men
Ok gentlemen, let's be frank. Men are no longer avoiding services that at one time were thought to be considered for women only. I field numerous calls from everyday ordinary guys, to men in high profile Corporate Positions inquiring about our Permanent Hair Removal Solutions and Services each and every week.
Women are no longer the only individuals benefiting from hair removal services in Naples. In fact, there are many men today that utilize our Permanent Hair Removal Solutions and Services to enhance their daily lives and professional careers. So now you know the truth, you aren't the only sex with excessive hair growth woes!
Personal hygiene and good grooming is a part of a man's personality, and it does wonder for their self-esteem. From both executive's and young men alike; they all have one thing in common, their hair removal needs are of great importance to them, and in today's world, smooth, silky, and hair-free skin is considered youthful and sexy
So gentlemen; if you are looking to get rid of your unsightly hair, it's perfectly normal. Regardless of social status or age, there are hundreds of thousands of male clients seeking salvation from unwanted, unsightly, and embarrassing hair growth; not to mention the added perks, compliments, and benefits that come from the opposite sex after undergoing Electrolysis and Laser Hair Removal.
Here Are Some Examples Of How Excessive Hair Growth Can Impact Your Daily Lives, And How Electrolysis And Laser Hair Removal Can Improve Upon It.
♦ Do you really want to continue to get your Unibrow waxed, threaded, or tweezed?
♦ Wouldn't it be great to finally put on a business suit without having tuffs of hair sticking out from underneath your cuffs, collar, or even showing through your shirt? Or how about not having to shave these areas ever again before an important business meeting?
♦ You may not be interested in having your entire beard removed; however, wouldn't it be great to finally stop shaving your neck once and for all? How about entirely getting rid of that nasty razor rash and all the ingrown hairs on your neck once and for all?
♦ What if you're incapable of growing out a full beard, wouldn't it be great to get rid of those small sparse patches of hair that only grow on certain areas of your cheeks and neck? Wouldn't it be nice to never have to shave your face again?
♦ Do you really want to spend hundreds, or perhaps thousands of dollars yearly on expensive razors, creams, and gels; not to mention all of that wasted time it takes to maintain a flawless looking beard or goatee?
♦ Have you ever wondered how it would be to get into a swimsuit or a pair of shorts and walk onto a beach without having to worry about all of your unwanted body hair? Are you often teased by your friends, family, or even strangers always suffering their taunts, them saying that you look like a Sasquatch, or that you look like A Wookie?
Permanently Eliminating Excessive Hair Growth For Men Once And For All!
Unlike with hair waxing, hair threading, hair sugaring, etc... skin damage from these temporary methods of hair removal are a thing of the past. Here at Sabrina's Electrolysis and Laser Hair Removal, our Permanent Hair Removal Solutions and Services provide our male clients with the enjoyment and the peace of mind of knowing that they no longer have to suffer any further embarrassment at the hands of their unsightly or unwanted hair, nor do they have to suffer from any further skin damage in Naples, or irritation at the hands of shaving, tweezing, waxing, threading or sugaring ever again.
So whether you're the everyday Joe seeking that smooth silky look for your wife or significant other, or you're the Exotic Male Dancer looking to stay as sexy as you can because your client's demand it, or you're the Fortune 500 Executive looking to keep that professional edge by maintaining that perfectly sculpted beard, goatee, or finally eliminating your Unibrow, then our Permanent Hair Removal Solutions and Services are for you.
Call today and take advantage of our free consultations and new client special offers. Don't let the ladies be the only ones' on the cutting edge of life.